Dr Victor Hernandez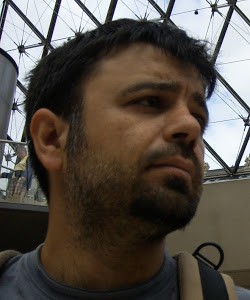 Lecturer in Biomedical Sciences

Department of Life Sciences


Brunel University London

Research Keywords
Bardet-Biedl Syndrome, Primary cilia, ciliogenesis, retinal degeneration, obesity
Research Interests
My research focuses on the mechanisms by which primary cilia are regulated by genes mutated in Bardet-Bield syndrome (BBS). We are studying cilia formation and regulation in cellular and animal models lacking BBS gene function to understand how their interactions influence cilia function. We study how gene expression is regulated during ciliogenesis in BBS models and its consequences in ciliary programs.
In all our BBS mouse models, retinal degeneration and truncal obesity are consistent progressive phenotypes. Understanding how retinal degeneration occurs in BBS mouse models is an important step to find a possible clinical response to these degenerative phenotypes. We are studying the cellular mechanism(s) involved in the late onset cell death of the photoreceptors which is common to all BBS models. We are also developing different gene transfer techniques using BBS knock-in models to restore gene function. We use different serotypes of adeno-associated virus (AAV) expressing wild-type BBS genes under the control of different promoters.
Current Funding:
Title: Resolving a common light-exposure reduction treatment for the two obesity ciliopathies, Alstrom and Bardet-Biedl Syndromes. PI: Phil Beales, Co-investigator; Victor Hernandez Award: £119,478 Year: 2014-2016
The aim of the project is to elucidate the interaction between ALMS1 and the BBSome complex, especially its interaction with BBS9 and BBS5. To study the regulation of ALMS1 and BBSome we aim to use cellular and animal knock-down models to challenge the system. The final goal of the project is to analyse how minimizing light exposure could stop or mitigate the degeneration of the retina in BBS5 mutant mice and its effect on ALMS1 expression.