Dr Hannah Mitchison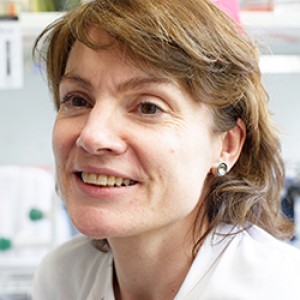 Reader in Molecular and Medical Genetics
Institute of Child Health
University College London

United Kingdom
h.mitchison@ucl.ac.uk

Research Interests
Background
Hannah Mitchison is a GOSHCC Reader in Molecular and Medical Genetics working on understanding the cell biological and genetic causes of children's inherited diseases, through family studies and functional analysis in model organism systems. Her work is focused on recessive diseases caused by dysfunctions of cilia, and lysosomes. Originally trained in cancer virology, Hannah developed her interest in the molecular genetics of paediatric diseases during her work in the laboratory of R. Mark Gardiner on discovery of CLN3 and CLN1 gene mutations causing juvenile Batten disease, followed by a move to Robert Nussbaum's laboratory at NIH to create a CLN3 knockout model. Returning to the UK to establish a research group at UCL, from 1999 she commenced studies with her long-term clinical colleague Eddie Chung into the genetics of ciliopathy disorders, centred initially on primary ciliary dyskinesia (PCD) and motile cilia disease. Hannah moved to the UCL Institute of Child Health in 2008, expanding her research to diseases of the sensory cilia in collaboration with Peter Scambler and Philip Beales, particularly skeletal ciliopathies including Jeune syndrome (Asphyxiating Thoracic Dystrophy). She co-directs the Cilia Disorders Laboratory with Philip Beales.
Hannah publishes and presents widely on ciliopathy disorders, serving as scientific advisor to the Ciliopathy Alliance and PCD Family Support Group, and as trustee of the Jeune Syndrome Foundation. She is an ICH Postgraduate Advisor, GGM Education Lead, Pathway and Module lead for the UCL Masters in Paediatrics & Child Health, and UCL and Module lead for the QMUL/UCL joint Health Education England Masters in Genomic Medicine. Current team members include Mitali Patel, Jane Hayward and Mahmoud Raafat.
Main Interests/Achievements
Our main research interests are the molecular genetic basis of cilia and lysosome diseases, and translational aspects moving towards the development of new treatments that an understanding of the underlying disease cell biology can offer. This work has led to significant improvements in diagnostics for affected individuals, and to a new understanding of the heterogeneous genetic and molecular basis of primary ciliary dyskinesia and Jeune syndrome following identification of >40 different disease genes for these two devastating conditions. Our work is supported by The Wellcome Trust, Action Medical Research, Newlife Foundation and GOSH Children's Charity, and for PCD is made possible through long-term collaborative links to the UK's PCD National Service (Claire Hogg, Amelia Shoemark, Jane Lucas and Christopher O'Callaghan).
The long-term aims of the research programme are: to understand how different clinical outcomes for ciliopathy patients arise from different genetic mutations; to characterise the interactome of proteins responsible for building and maintaining ciliary functions; and to translate our lab research to the bedside by development of new genetic-based therapies.
Genetic diagnostics for PCD, ciliary chondrodysplasias (Jeune Asphyxiating Thoracic Dystrophy) and related sensory ciliopathies. Funded by GOSH Children's Charity and in collaboration with the PCD National Service centres, we are working to develop state-of-the-art diagnostics services for ciliopathies. With the North Thames Regional Genetics Service we have developed a ciliopathy gene panel testing service for mutational analysis that has screened >150 cases. This 'Ciliome' diagnostic panel recently received UKGTN clinical accreditation.
Understanding how ciliopathy genotype influences the underlying clinical symptoms and disease lifecourse. From these arising genetic advances we are working to develop a better understanding of how genetics influences the clinical outcomes for ciliopathy patients, and this is already leading to advances in prognostic predictions and improved counselling for affected individuals and their families.
Gene discovery and functional biology of PCD and Jeune Asphyxiating Thoracic Dystrophy. We are using next-generation sequencing to identify novel causes of ciliopathy diseases in patients that cannot be diagnosed using the current gene panels. In parallel we are investigating the known disease causes to look at the protein networks that regulate the structure and functions of cilia. For PCD we are focused on the dynein arm assembly process using biochemical and proteomic approaches.
Novel therapies for PCD and Jeune Asphyxiating Thoracic Dystrophy. We are currently developing in vivo models of PCD and Jeune Asphyxiating Thoracic Dystrophy for novel therapeutics, and with Chris O'Callaghan and Stephen Hart, the group was recently awarded Action Medical Research funding to pursue novel therapies targeted at a particularly prevalent mutational type causing PCD.
Retinal and neurological defects underlying juvenile Batten disease. In collaboration with Clare Futter and supported by the Batten Disease Family Association and EU FP7, we are working to understand the basis of retinal and neuronal degeneration in juvenile Batten disease using the Cln3Δex1-6 knockout model.
Cilia Research Projects
The following are funded research projects related to cilia research.