News
Looking forward to the @UKCiliaNetwork meeting next Friday in Oxford. https://t.co/Be72BNNcXT

19:12 15-03-2018

This looks like a major step forward in understanding tubulin modification in cilia: Spatiotemporal manipulation of ciliary glutamylation reveals its roles in intraciliary trafficking and Hedgehog signaling https://t.co/cTVHO12yEB


14:11 15-03-2018

Check out the programme for #UKcilianetwork meeting on 23 MARCH and REGISTER to attend 👉 https://t.co/WHTafFnpnM https://t.co/SPSh8osnZ7


14:10 15-03-2018

Also great to see that David Asante, our former PhD student, now at MRC Harwell will also be speaking @UKCiliaNetwork "The functional partnership between PKD1L1 and PKD2 in left-right establishment"


14:10 15-03-2018

Laura is speaking at the UK Cilia Network annual meeting in Oxford on Friday 23/03 https://t.co/6ObjxKvN3C @UKCiliaNetwork "Dynein-2 intermediate chains play crucial but distinct roles in primary cilia formation and function" 2/3


12:48 15-03-2018

Check out the programme for #UKcilianetwork meeting on 23 MARCH and REGISTER to attend 👉


18:41 14-03-2018

Calling all early career researchers #phd #postdoc interested in #cilia Upcoming @UKCiliaNetwork meeting on MARCH 23 @UniofOxford REGISTER TO ATTEND via website and write a meeting report for @GenSocUK - contact Dominic Norris @MRCHarwell RT!


12:13 13-03-2018

Upcoming @UKCiliaNetwork meeting on MARCH 23 @UniofOxford REGISTER TO ATTEND via website and write a meeting report for @GenSocUK - contact Dominic Norris @MRCHarwell


12:11 13-03-2018

The Genetics Society is funding the UK Cilia Network meeting on 23rd March. We are now looking for volunteers to write a brief meeting report- If you are happy to help, please contact Dominic Norris.


15:38 12-03-2018

It's #focaladhesionfriday look at this little guy divide ! https://t.co/tyeZc0bBY5


09:43 09-03-2018
---
News Blog
PDRA position - MRC Harwell

is seeking a talented postdoctoral researcher to work in a team investigating the role of cilia in development and disease, led by Dr Dominic Norris. Applicants should be highly motivated, with an understanding of genetics and an interest in using the mouse as a model system. You will drive research investigating the genetics, cell biology and developmental biology of left-right patterning and kidney disease.

Research will involve a wide range of techniques, including cell biology, mouse embryology, microscopy/confocal imaging, RNA extraction and qPCR analysis of gene expression, cell and embryo culture and the design of sophisticated mouse mutagenesis experiments, in addition to routine molecular techniques (DNA cloning, sequencing, genotyping etc).
Informal enquiries to d.norris@har.mrc.ac.uk
The deadline for applications is 17 October 2017.
The 2nd UK Cilia Network meeting was held in Oxford in March 2017 organised by Dominic Norris, Angus Wann and Fiona Bangs. There was an excellent programme of talks including 3min presentations from PhD students. Oliver Blaque from UCD Dublin, gave an excellent keynote talk, outlining 15 years of cilia research. The meeting included a discussion of how future meetings should be organised with the view that these should be annual meeting arranged at the same time (and possible the same venue) each year.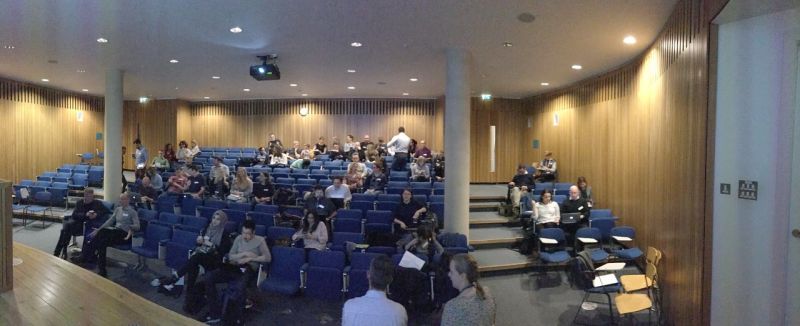 We held the first

UK Cilia Network meeting

on July 7th 2016 with over 70 delegates and a fantastic programme of cilia related presentations and a fascinating keynote lecture from

Prof Claudio Aguilar

(Purdue, Biological Sciences). The meeting was sponsored by Zeiss and Simon Denham presented a useful summary of the latest super resolution and light sheet microscopy techniques. Full details on the meetings page.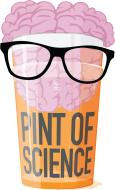 Pint of Science - Cilia Talk.
Prof Martin Knight presented a public talk on his mechanobiology and primary
cilia research as part of the Pint of Science festival of 23rd May at Redchurch Brewery! The talk was in conjunction with Prof Julia Shelton, and focussed on aspects of bioengineering related to the hip joint and the problem of arthritis which affects 8 million people in the UK. Full details at
http://pintofscience.co.uk/event/from-hip-cells-to-implants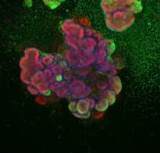 Cilia, Cytoskeleton and Cancer Meeting, 25—26 April 2016, IGMM, Edinburgh, UK. Click here for full details here
Prof Martin Knight's Inaugural Lecture - Mechanobiology and the Primary Cilium
.
Click here to view the full presentation
. Martin was promoted to Professor of Mechanobiology at Queen Mary University of London in 2013 but only recently gave his inaugural lecture. The clip below shows the audience doing the 'motile cilia mexican wave'!
Media coverage following paper on the effects of lithium on chondrocyte cilia and hedgehog signalling from Prof Knight's group. Dr Clare Thompson at Queen Mary University of London published her paper in FASEB J showing how lithium chloride causes elongation of chondrocyte primary cilia which results in reduced sensitivity of the hedgehog signalling pathway. Hedgehog signalling is disregulated in various pathologies including osteoarthritis and cancer. The findings in this paper demonstrate exciting potential of ciliotherapy in which the structure of the cilium is modulated to control hedgehog signalling. See press release and subsequent media coverage including Science Daily, Science Newsline, Follow News and Digital News World etc (November 2014).
Wellcome Trust Seed Award funded. "Mapping mechanotransduction mediated by primary cilia at nanoscale". This exciting new grant awarded to Dr Pavel Novak at QMUL will combine the latest technology in scanning probe microscopy and nanopipette techniques with confocal microscopy, electrophysiology, and mechano-biology to break the existing resolution barrier in direct stimulation and recording of channel and receptor activity along the fine structure of primary cilia. The technique will be used to gather data on the distribution of mechano-chemical receptors in primary cilia to support future research proposals aimed at understanding the reorganisation of mechanotransduction in ciliated cells in disease. Prof Martin Knight is the named collaborator on this grant which supports the groups work on cilia structure-function relationships. (September 2015)
MRC grant on extra centrosomes in cancer cells. Dr Susana Godinho has been awarded a new 3-year grant of £466,417 by the MRC, to find out which signalling pathways are essential for cancer cellinvasion, when the cells have extra centrosomes. Human tumours often carry abnormal numbers of centrosomes. Although the role of extra centrosomes in cancer development is still unclear, recent evidence suggests they are not only bystanders in cancer progression, but active in its promotion. This new work will contribute to our understanding of the effect of centrosome amplification in tumour progression. (find out more)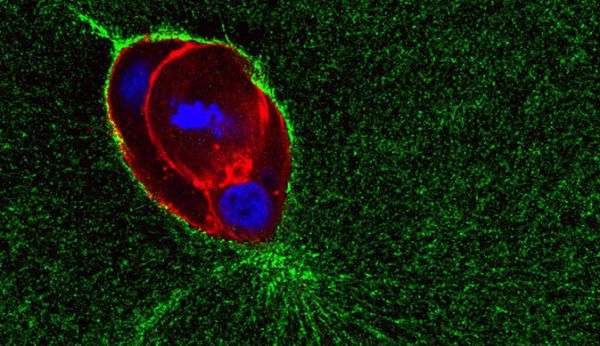 Press coverage of paper From Knight group on the role of lithium in preventing cartilage degradation. The paper, published in Journal of Orthopaedic Research, describes how dietry lithium chloride is not catabolic in vivo and actually prevents the degradation of articular cartilage in response to the inflammatory cytokine, IL-1B. The work was led by Dr Clare Thompson (QMUL) with grant funding from the AO Foundation in collaboration with Prof Tony Poole in New Zealand. The paper has attracted some media interest which includes discussion of our interest in ciliotherapies for cartilage treatment. See interview in Pharmacy Learning Network and QMUL press release (July 2015)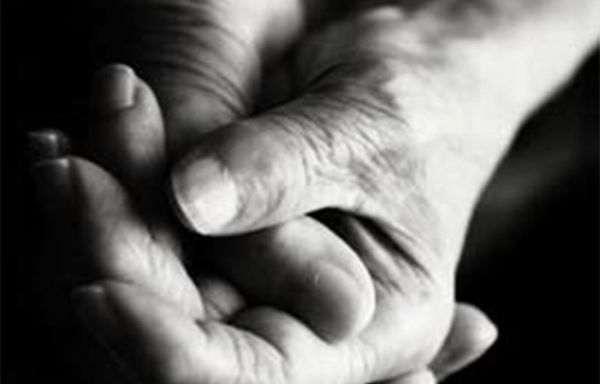 Prof Cynthia Jensen visits Knight group at QMUL. Prof Knight's group were delighted to have Prof Cynthia Jensen visit from New Zealand. Cynthia was involved in much of the pioneering work on primary cilia in connective tissue along with Tony Poole and hosted Knight's previous Royal Society research visits to University of Auckland in 1998 and 2006. While Cynthia was visiting we had talks from some of the Knight's cilia research team (from left: Martin Knight, Dan Rowson, Sheetal Inamdar, Melis Dalbay, Robin Delaine-Smith, Riana Patel and Cynthia Jensen). (July 2015)

Dr Sam O'Toole starts Clinical Training Fellowship. Dr O'Toole will be based in Prof Paul Chapple's group at the William Harvey Research Institue, QMUL, and will be working on a project entitled 'Preventing tumour progression in Von Hippel–Lindau disease by remodulating primary cilia function'. (see projects page for full details). The image below shows a maximum intensity projection of a confocal Z-stack of a primary cilium in a Renal Proximal Epithelial Tubular Cell.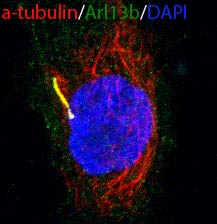 Cilia elongation controls stem cell adipogenesis - Paper published in Stem Cells. Paper from Knight and Chapple's group at QMUL entitled 'Adipogenic differentiation of hMSCs is mediated by recruitment of IGF-1R onto the primary cilium associated with cilia elongation' has just been published. The paper is part of Melis Dalbay's PhD studies on the role of primary cilia in stem cell differentiation. Melis is supervised by Prof Martin Knight with Prof Paul Chapple and Dr John Connelly. Click here for full paper. See also QMUL Press Release and associated write up in Science Daily, BioPharma-Reporter, diabetes.co.uk and MF Monitor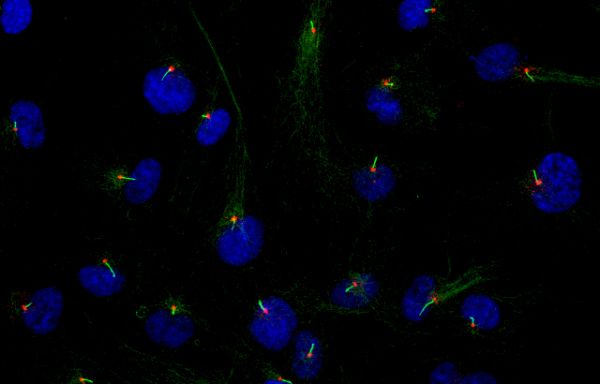 New PhD Studentship. Knight, Bishop and Novak at QMUL have been awarded are currently a new PhD studentship to work on the role of polycystin in cartilage mechanobiology in health, aging and disease. The student will be trained in state-of-the-art techniques including super resolution microscopy and scanning ion conductance microscopy (SICM) enabling nanoscale visualisation of polycystin on primary cilia and electrophysiology of this possible mechanosensitive ion channel. This exciting new project will be co-supervised by Prof Martin Knight, Dr Pavel Novak (an expert on SICM) and Dr Cleo Bishop (an expert in primary cilia and ageing). [More infomation] (January 2015)