Prof Paul Chapple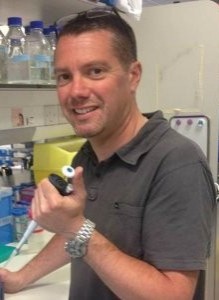 Professor of Molecular Cell Biology
William Harvey Research Institute
Queen Mary University of London

United Kingdom
+44 (0)20 7882 6242
j.p.chapple@qmul.ac.uk
www.whri.qmul.ac.uk/staff-all/staff-research/176-chapple-paul
Research Interests
Dr Paul Chapple was awarded a PhD by University College London in 1997, this investigated the physiological and evolutionary significance of Hsp70 chaperones in a marine organism. He then worked for eight years as a Postdoctoral Researcher in the laboratory of Professor Michael Cheetham at the UCL Institute of Ophthalmology, where he researched the cell biology of chaperone proteins involved in neurodegeneration and blindness. In 2004 he moved to the KCL Institute of Psychiatry to work with Dr Jean-Marc Gallo on the Alzheimer's protein Tau. Dr Chapple became a Lecturer at the William Harvey Research Institute in 2006, was promoted to Reader in 2010 and Professor in 2014. He serves as a reviewer and committee member for grant-giving bodies, including current membership of BBSRC Committee D and previous membership of the Society for Endocrinology Science Committee.
Cilia-related Research :cChaperones and environmental modulation of primary cilia function:
Primary cilia play a role in the coordination of cellular signalling pathways, with dysfunction associated with genetic syndromes and other disease. We are investigating the requirement for chaperones in cilia function and mechanisms that regulate cilia response to extracellular stressors.
G protein-coupled receptor trafficking:
GPCRs respond to a wide range of extracellular stimuli and are important drug targets. We are elucidating the chaperones involved in GPCR quality control and identifying strategies to rescue cell surface expression of intracellular retained receptor mutants. This research is relevant to pathologies including monogenic obesity and retinal degeneration.
Cilia Research Projects
The following are funded research projects related to cilia research.