Events
33rd BSCB GenSoc UK Cilia Network e-symposium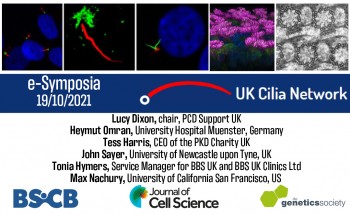 Date: 19 October 2021 Time: 15:00 - 17:15
It is a year exactly until our EMBO Cilia meeting is finally due to meet in person again in Cologne with our patient-based events kicking off the meeting! To mark this occasion, we are running this amazing place-holder session to bring together patients and patient advocacy groups to our researchers, something that has been missing from these e-symposia we normally run. It is the perfect opportunity to share some exciting translation which is that much closer to clinic than what our important basic science can often feel like, one gene, one cilia measurement at a time!
The aim of this one-off session is to highlight what challenges and opportunities there are for PCD, PKD and BBS patients specifically, but perhaps in common to for the ciliopathies in general. We hope to encourage and inspire researchers to be more engaged with patient support groups beyond just closing statements on funding grants.
33rd BSCB GenSoc UK Cilia Network e-symposium
Date: October 19th 2021 Time: 15:00 - 17:30 BST
3:00 -3:05 Pleasantine Mill Opening Remarks
3:05 -3:25 Lucy Dixon, chair, PCD Support UK
3:25 - 3:45 Heymut Omran, Professor and Chief Medical Director of the Department of General Pediatrics at the University Hospital Muenster, Germany
3:45 - 4:05 Tonia Hymers, Service Manager for BBS UK and BBS UK Clinics Ltd.
4:05 - 4:25 Max Nachury,Ophthalmology, University of California San Francisco, US
4:25 - 4:45 Tess Harris, CEO of the PKD Charity UK
4:45 - 5:05 John Sayer, Deputy Dean of Clinical Medicine, Translational and Clinical Research Institute, University of Newcastle upon Tyne, UK
Updated by: Pleasantine Mill