Events
26th BSCB GenSoc UK Cilia Network e-symposium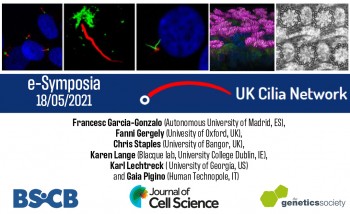 Date: 18 May 2021 Time: 15:00 - 17:30
26th BSCB GenSoc UK Cilia Network e-symposium
Date: 18 May 2021 Time: 15:00 - 17:30 GMT
3:00 -3:05 Pleasantine Mill Opening Remarks
3:05 -3:25 Fanni Gergely, PI (University of Oxford, UK) 'Cell type-specific functions of mammalian centrosomes'.
3:25 -3:45 Chris Staples, PI (University of Bangor, UK) 'The role of HERC2 in ciliogenesis'.
3:45 - 4:05 Francesc Garcia-Gonzalo, PI (Autonomous University of Madrid, ES) 'Multiple ciliary localization signals control INPP5E ciliary targeting.'
4:05 - 4:25 Karen Lange, Blacque lab, postdoc (University College Dublin, IE) 'Characterizing ciliopathy-associated variants of unknown significance (VUS) in TMEM67 using C. elegans'.
4:25 - 4:45 Karl Lechtreck, PI (University of Georgia, US) 'ARMC2/PF27 is an obligate adapter for IFT of radial spokes'
4:45 - 5:05 Gaia Pigino, PI (Human Technopole, IT) 'Towards a mechanistic understanding of cilia biology by CLEM and cryo-ET'.
Updated by: Pleasantine Mill