Events
23rd BSCB GenSoc UK Cilia Network e-symposium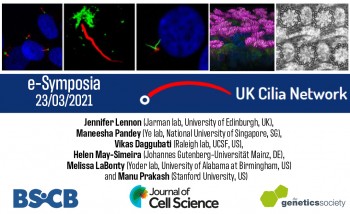 Date: 23 March 2021 Time: 15:00 - 17:30
23rd BSCB GenSoc UK Cilia Network e-symposium
Date: 23 March 2021 Time: 15:00 - 17:30 GMT
3:00 -3:05 Pleasantine Mill Opening Remarks
3:05 -3:25 Helen May-Simera, PI (Johannes Gutenberg-Universität Mainz, DE) 'Cilia in the RPE- And how they help us to see'.
3:25 -3:45 Maneesha Pandey, recently defended PhD student, He lab (National University of Singapore, SG) 'Functional Lipidated protein Intraflagellar Transport (LIFT) pathway in Trypanosoma brucei'.
3:45 - 4:05 Melissa LaBonty, postdoc, Yoder lab (University of Alabama at Birmingham, US) 'Conservation of the genetic interaction between bbs-5 and nphp-4 across species.'
4:05 - 4:25 Vikas Daggubati, MD/PhD student, Raleigh lab (UCSF, US) 'Smoothened-activating lipids drive resistance to Hedgehog-associated medulloblastoma'.
4:25 - 4:45 Jennifer Lennon, PhD student, Jarman lab (University of Edinburgh, UK) 'Investigating R2TP-like complexes in Drosophila motile ciliated cells'
4:45 - 5:05 Manu Prakash, PI (Stanford University, US) 'Walk, Run and Swim: Wonderland of ciliary biophysics '.
Updated by: Pleasantine Mill