Events
16th BSCB GenSoc UK Cilia Network e-Symposium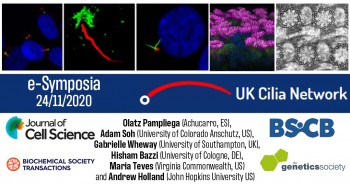 Date: 24 November 2020 Time: 15:00 - 17:30
16th BSCB GenSoc UK Cilia Network e-symposium
Date: 24 November 2020 Time: 15:00 - 17:30
3:00 -3:05 Pleasantine Mill Opening Remarks
3:05 -3:25 Olatz Pampliega, PI (Achucarro Basque Center for Neuroscience, ES) 'Amyloid beta modulates neuronal autophagy through the primary cilium'.
3:25 -3:45 Adam Soh, PhD student Pearson lab (University of Colorado Anschutz Medical Campus, US) 'Tetrahymena thermophila basal body connections promote ciliary synchrony' .
3:45 - 4:05 Gabrielle Wheway, PI (University of Southampton, Faculty of Medicine CA) 'Discovery of a novel isoform of SARS-CoV-2 receptor Angiotensin Converting Enzyme-2 (ACE2)'.
4:05 - 4:25 Hisham Bazzi, PI (University of Cologne, DE) 'Gradual centriole maturation is associated with the mitotic surveillance pathway establishment during mouse development'.
4:25 - 4:45 Maria Teves, PI (Virginia Commonwealth University, US 'Reduced expression of SPAG17 links dysfunctional primary cilia, morphogen signaling activation and multiple organ fibrosis'.
4:45 - 5:05 Andrew Holland, PI (Johns Hopkins University School of Medicine, US) 'Centriole distal appendages act as signaling platforms that control cell proliferation'.
Updated by: Pleasantine Mill