Events
BSCB GenSoc UK Cilia Spring Meeting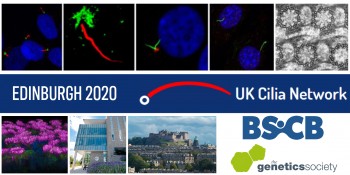 Date: 28 April 2020
We are pleased to announce that registration for the BSCB GenSoc UK Cilia Spring Meeting Edinburgh 2020 (28/04/2020) is now LIVE! Open to all, free to register and all talks outside the keynote to be selected from abstracts! Submit your abstract before 07/4/2020 to be be considered for a talk or poster- we especially encourage students, postdocs and early career researchers to apply. We are also very fortunate to have Guangshou Ou (Tsignhua University, CN) coming to give the keynote with his revolutionary super-resolution imaging of IFT and cilial processes in worms.

FREE REGISTRATION FOR THE MEETING: https://www.eventbrite.com/e/bscb-uk-cilia-spring-meeting-ti...

As a pilot run, we are running this one day meeting directly after the British Microtubule Meeting (Edinburgh, 27/04/2020) to minimize travel and barriers for delegates to attend both fantastic meetings bringing together cytoskeleton labs from across the UK.

Event to be held at the following time, date and location:
Tuesday, 28 April 2020 from 09:30 to 17:30 (BST)
The Institute of Genetics and Molecular Medicine
Crewe Road South, Edinburgh EH4 2SP, United Kingdom

CHILD CARE BURSARIES: In recognition of carer's responsibilities, three awards of (up to) £60/day will be made available to enable GenSoc members to attend our UK Cilia Spring Meeting. Awardees can spend this money as they think will best support their attendance. We will give priority to early-career scientists and according to need. As such, the awards must be applied for prior to the meeting through the GenSoc website. Once approved, awards will be claimable in arrears on production of electronic receipts. All we ask that you provide is : your career stage; description of your caregiver role and very brief justification of your need for this award.

This free event is the annual Spring meeting for the UK Cilia Network. This informal multidisciplinary group aims to bring together researchers and clinicians working on structure and function of cilia and centrosomes in a broad range of organisms and cell types. Our goals are to foster collaboration and sharing of expertise in order to further understanding of these organelles and their role in development, ageing, health and disease.