Events
BSCB GenSoc UK Cilia Spring Meeting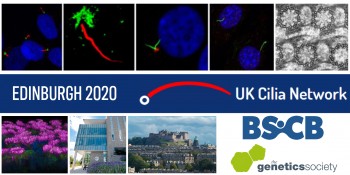 Date: 28 April 2020
COVID-19 : This meeting will now be entirely online. Please register via eventbrite as normal.

In light of the current COVID outbreak, we have postponed the BSCB GenSoc UK Spring Cilia Meeting until next year, 11/05/2021 in Edinburgh. However we will run a mini e-symposium entirely online on 29/04/2020 (times to be confirmed).

We will select abstracts uploaded to our eventbrite page by the 07/04/2020 from our very talented ECRs, postdocs & students who have stories to share NOW, not next year! We will run a live symposium with a collection of short talks, followed by Q&As and possible a panel discussion- format to be confirmed. We will also record the symposium and make it viewable on demand to only those who have registered in advance.

FREE REGISTRATION FOR THE MEETING: https://www.eventbrite.com/e/bscb-uk-cilia-spring-meeting-ti...